Hanoi Motorbike Food Tour
Hanoi Motorbike Food Tour
The food of northern Vietnam is famous throughout the world. Hanoi is the heart of this gastronomic culture and with Hanoi Motorbike Tours you will experience a large range of these foods over the course of the tour.
Hanoi Fabulous Food and Sights Tour Whether it is hidden Street Food Stalls, Small Local Restaurants or a Massive Bia Hoi Restaurant with a view, our tour will find the perfect food scene to satisfy your gastronomic desire. Come with an empty belly and we will send you home with a smile on your dial. For the more curious and adventurous food lover, ask your guide about some of the foods only the locals eat, you will be surprised and intrigued at what you can find to eat on the streets of Vietnam's Capital City.
The Fabulous Sights: Besides the rich history and charm of the Old Quarter to the relaxed atmosphere around West Lake, you will see parts of Hanoi that you would never see, some places that would be inaccessible by car and hard to find by walkingHanoi Fabulous Food and Sights Tour, only available with Paloma motorbike tour. Experience these fabulous tastes and sights and enjoy the streets of Hanoi like a local today.
Hanoi Motorbike Food Tour Itinerary :
8.00am – Your Tour Guide will pick you up at your hotel.
8.30am – Meet the group and have a full safety briefing about the Tour in meeting point with Egg coffee or soft drink.
8.45am – Tour around, take photos and get a look at Hanoi's major landmarks like the Hoan Kiem Lake, The Temple of literatureHanoi tours and Long Bien bridge…
9.15am – Ride around the city, outside of the Old Quarter, where most tourists don't visit such as: railway house and B52 bomber wreck site. Take a number of short stops to take photos and the Tour Guide Leader will take you on a foot to learn about the history of the sites.
10.00am – Enjoying a range of Hanoi streetfood for a snacks.
10.30am – Ride around West Lake, pass some of the most exclusive real estate in Vietnam to find out lifestyle differences between center district and others.
11.30am – Stop for Lunch. You will experience lunch at an authentic hanoi sightseeing toursVietnamese Restaurant with a wonderful variety of unlimited food to cater for every taste. You will be amongst the locals having lunch as they do. Drink unlimited amounts of Cold Local Beer / Cold Soft Drinks or Tea.
12.30pm – You can ask your Tour Guide to take you to any location in the Old Quarter or to your hotel.
End of tour.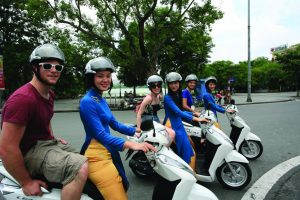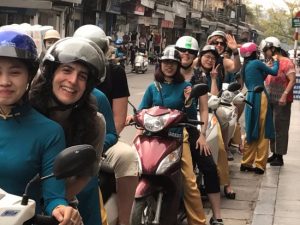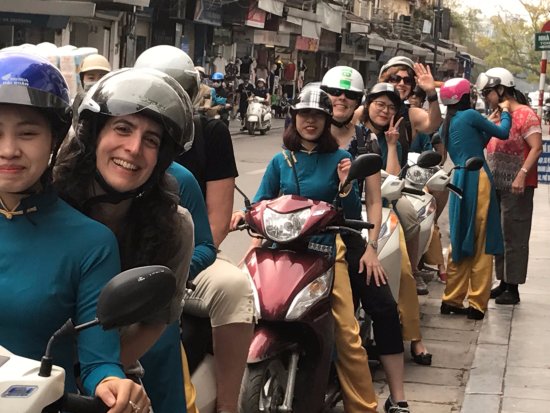 What's included per person of Hanoi Motorbike Food Tour:
Motorbike with a high quality helmet
Insurance Cover
Tour Guide / English to Vietnamese
Female driver to drive your motorbike and answer your questions
Tour Guide Leader
Hotel pick up and drop off
Coffee / Tea / Soft Drink at the meeting point
Sightseeing entrance fees
A range of Vietnamese snacks
Lunch: unlimited amounts of authentic Vietnamese food from the menu to suit your taste requirements including unlimited drinks (Cold Beer / Cold Soft Drink / Tea).
What's not included per person of Hanoi Motorbike Food Tour:
Gratitude / Tips to Tour Guide (recommended)
Wine bottles and Spirits available during Lunch / Dinner
Any items not mentioned above.
RATE : 45 USD / person. Please send request 24h at : Motorbiketourhanoi@gmail.com
Hotline : +84923717907